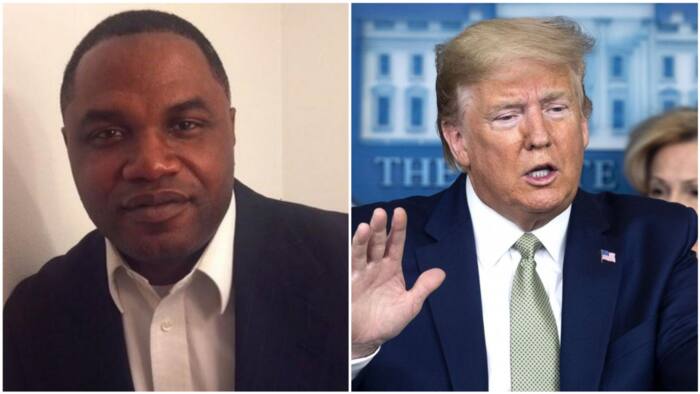 Taiye Olayemi, a Nigerian in the US, has said that the American government gave people $1200 (N468,168.00) as a palliative in the lockdown – The Nigerian man said that though the money cannot be the same as if people were allowed to work, it is still better than nothing – Taiye commiserated with families who have lost loved ones to the pandemic, adding that the deadly disease hit America hard A Nigerian in the US and a publisher, Taiye Olayemi, has revealed how the American government has been taking care of them during the lockdown. In an interview with the Legit TV video team, he said that the govt gave them $1200 (N468,168.00) as palliative so that they do not go hungry during the pandemic. Apart from that, he said the US government has been working hard investing in the country's food bank.
On how the food bank works, he said anybody could go there and register and some necessary food items would be given to them.
Taiye also said that though the money that was given to them cannot be compared to how much they earned when they go out to work, it is still something as it has kept many afloat in taking care of basic needs. Watch the full video interview below:
Meanwhile, Legit.ng earlier reported that a Nigerian Twitter user who is living in Canada with the handle @ChuksJaphet has revealed that the Canadian government gave them c$2,290 (N626,406.62) each. He said that they were first given a deposit of c$2000 (N547,080.02) before they were on Monday, April 19, given another c$290 (N79,326.60). @ChuksJaphets berated the Nigerian government for asking them to come back home and telling them that they would be paying for their flight cost. The Nigerian Twitter user, therefore, added that home is not where one is born but where the political leaders have your interest at heart.
In other news, Nigerians that are stranded in the United Kingdom have expressed great frustration over how their evacuation is being delayed by the federal government. The Nigerians said that the government does not have the right to keep its citizens out of the country for whatever reason.